 General information

| | |
| --- | --- |
| Genre | 80s, classic rock, chillout, rock, 70s |
Bagatelle are an Irish rock band who first formed in the early seventies by Liam Reilly, Ken Doyle and John O'Brien, in Louth. In 1978 came their first hit single 'Summer in Dublin'.
Fellow Irish musician Bono has commented on the impact that Bagatelle had on U2 in the early days of their career, Larry Mullen, of the same band, once famously said that he used to call them "Baga-Money", in reference to their fame, and that he wished that his band could be as successful as them.
In 1990, band member Liam Reilly was placed joint second out of the 22 entries in the Eurovision Song Contest with the song 'Somewhere in Europe'.
http://www.irishusa.com/bagatelle/
http://www.allmusic.com/artist/p15602
http://irishrockers.com/artistView.php?artist=Bagatelle
Source
Top Tracks
| | | |
| --- | --- | --- |
| 1 | | Summer in Dublin |
| 2 | | Second Violin |
| 3 | | Jersey Girl |
| 4 | | Trump Card |
| 5 | | Jackson |
| | | |
| --- | --- | --- |
| 6 | | Love Is The Reason |
| 7 | | Leeson Street Lady |
| 8 | | Somewhere in Europe |
| 9 | | Boston Rose |
| 10 | | Streets of New York |
Top Albums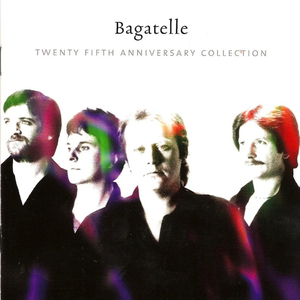 Twenty Fifth Anniversary Collection