 General information

| | |
| --- | --- |
| Genre | dance, eurodance, pop, 90s, female vocalists |
There are 5 entries with the name "Gala":
1) Dance/pop/rock singer song-writer Gala has finally returned. Referred to by her fans as a "cult dance artist" for her minimalist look and haunting voice, Gala suddenly disappeared at the top of her dance/pop success.
She formed her own label, Matriarchy Records, in Brooklyn, New York and set out to redefine her sound. 'TOUGH LOVE' is Gala's New York album, with influences from rock and roll, Chrissie Hynde, Joan Jett, Debbie Harry and on occasion, the B52's and Prince.
Yet TOUGH LOVE doesn't completely ignore Gala's dance/pop past. "Freed From Desire (The Un-Remix)" still recalls her original version, "DKOL (Different Kind Of Love)" starts with a solid guitar riff but quickly adds club friendly beats, and "Do It" would be at home on a Grace Jones album.
Participants for Gala's New York album were producer Marcus Bell, avant-garde drummer Deantoni Parks and musician/producer Kevin Rudolf co-produced the urban tinged track "Faraway."
2) Gala is a little-known project that hails from Mexico, to date releasing one album called Gregorian Dance (published in 1994 by Polygram). Featuring seven original songs, the album is a mixture of sampled Gregorian chants mixed with dance beats and ambient instruments. All tracks are composed by Fontana and feature a variety of jazzy and dance instruments as well as some French singing and Enigma-like breathing, despite lower production values. Cosmos, is an eerie song featuring a brief, cropped sample of a Gregorian prayer as well as female chanting and some flamenco guitar flourishes. It often comes across as a pale Enigma clone: many songs feature chirpy, affected samples which are repeated and occasionally even sound out of place with the backing instrumentation. The overall sound might be considered slightly out-of-date by today's standards. Also included on the album are 5 remixes of some of the main songs, which are mostly radio versions.
3) Gala - Vesna Galiot is serbian dence pop artist
4) Gala - A Chinese band.
5) Gala - latin ethnic fusion project, which inspired by the success of Gregorian chants
combined with dance beats, mainly trance and house. Produced and arranged by Jorge Álvarez,
"Gregorian Dance" was released by Polygram in June 1994, issuing the single "Graduate" a year later…
Members:
Alex Soler, Juan Tarodo, Sergio Soler
Source
Top Tracks
| | | |
| --- | --- | --- |
| 1 | | Freed from Desire |
| 2 | | Come Into My Life |
| 3 | | Let a Boy Cry |
| 4 | | Freed From Desire (Edit Mix) |
| 5 | | Come Into My Life - Molella And Phil Jay Edit Mix |
| | | |
| --- | --- | --- |
| 6 | | Suddenly |
| 7 | | Faraway |
| 8 | | Freed from Desire - Radio Edit |
| 9 | | Freed from desire - edit mix |
| 10 | | Free From Desire |
Top Albums
Come Into My Life (The Album)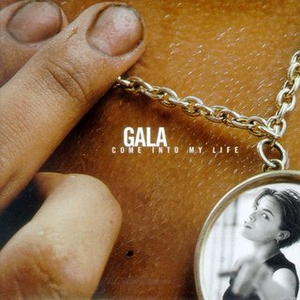 Come Into My Life (10th Anniversary)